"After the Russian occupation, not a stone was left on a stone. I regret returning home"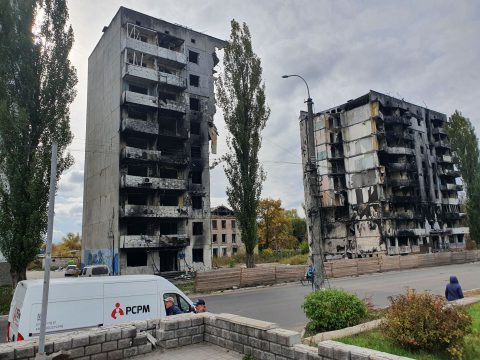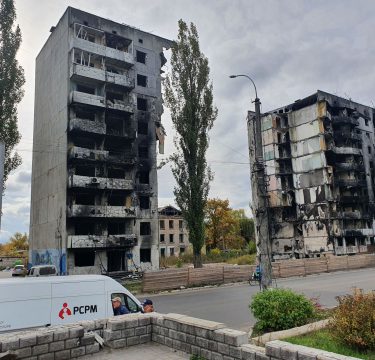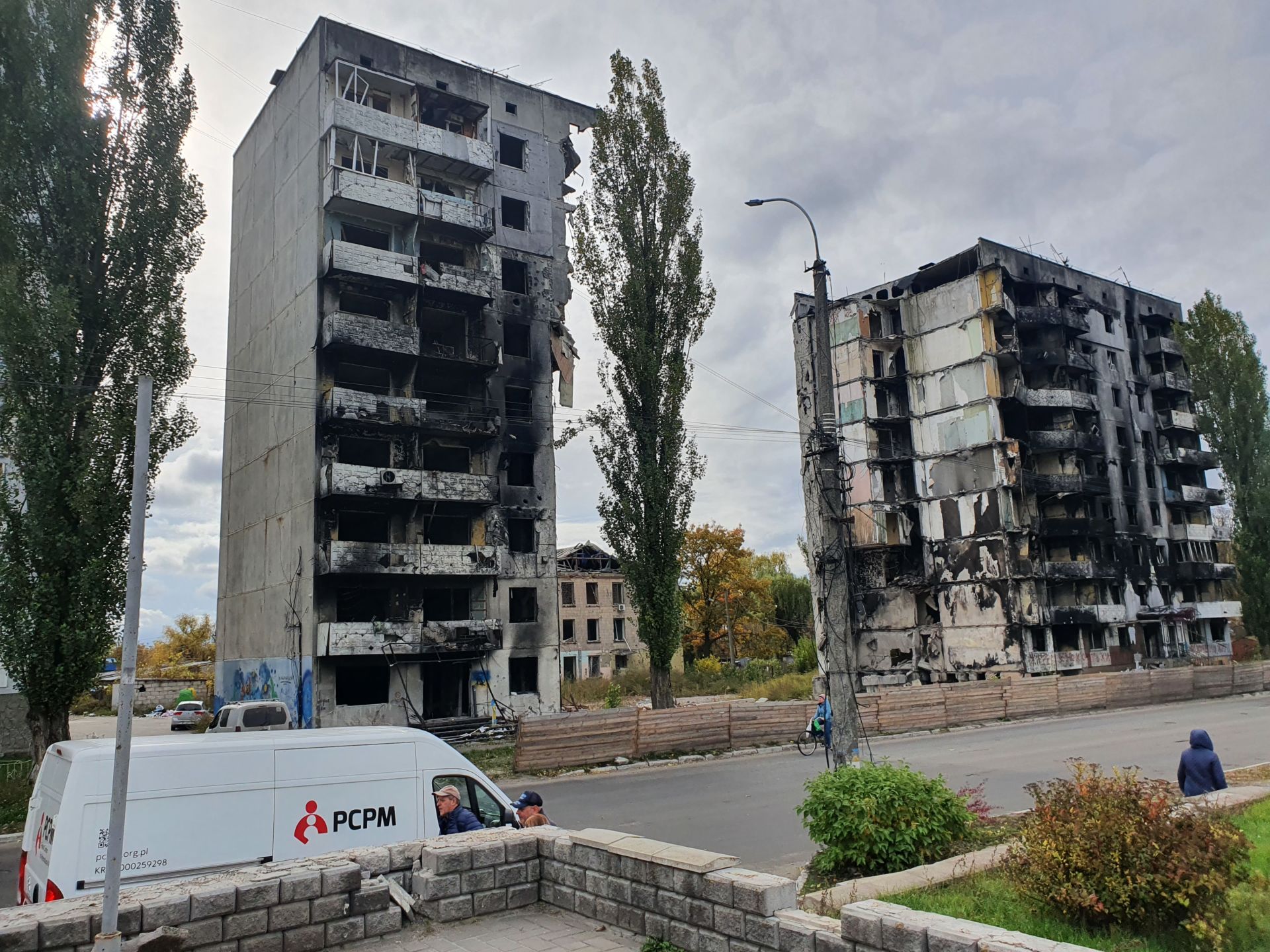 Because of the war, many families in Ukraine have nothing to return to. Their homes often have been destroyed and looted, bombs are still falling on the area, and the ground is full of mines left by Russian troops. To help people displaced due to the war, the Polish Center for International Aid (PCPM) is spreading humanitarian assistance not only to Ukrainian refugees in Poland but also to those who have looked for refuge in safer regions within Ukraine. One of the forms of assistance provided by the PCPM Foundation is financial support for the most basic needs like rent, clothes and food.
"DUE TO THE TREMENDOUS STRESS I BECAME VERY ILL, I HAD A STROKE"
"At the moment of Russia's attack on Ukraine, I was living in the town of Stary Saltiv (Kharkiv region). On May 1, my children came to pick me up, begging me to run away with them from the approaching front – I refused. The next day a massive bombardment began, the roof of my house collapsed, and I was so terrified that I only grabbed my blood pressure monitor and fled. I was treated for high blood pressure. I took the last bus out of town to Kharkiv. From there, volunteers drove me to Svitlovodsk" – 75-year-old Tamara reported. "I came here with absolutely nothing! I needed new shoes, clothes, and when I got sick, I had to buy expensive medicines, without which I simply wouldn't have survived. I still take hypertension pills and other medications. Due to tremendous stress, I became very ill after arriving in Svitlovodsk, and I had a stroke. If there was no financial support from the PCPM, I simply would not have had the money" – she added.
The coordinator of PCPM humanitarian aid programs in Ukraine Anna Radecka describes, that the financial assistance we provide in cooperation with our partner, the American organization CARE International, has reached more than 6,500 people. "We launched the program back in the summer, in June. More than 6,000 people received support for six months. Then, in October, we provided additional over 500 displaced persons with benefits for three months" – she explained. The program is not only limited to financial support, it consists also of humanitarian aid: food and material assistance to the most needy refugees in Ukraine. "We recently provided blankets and thermal quilts for 500 families and diapers for more than 50 elderly people with mobility limitations" – Radecka said.
"WORD REACHED US THAT THE RUSSIANS WERE PLANNING TO DESTROY THE DAM; THE SHELLING WAS GOING ON, BUT WE WERE AFRAID TO HIDE IN THE BASEMENT BECAUSE OF THE FEAR THAT WE WOULD BE FLOODED AND WE WOULD DROWN THERE"
One of the families that receives support from the Foundation is Hanna with her two daughters. The younger one was born with a congenital kidney defect. "We lived in the town of Pechenhy near Kharkiv. When the war started, we did not want to leave the house at all. We deluded ourselves that everything would somehow work out soon, but soon we heard that the Russians were planning to destroy the dam on the Pechen Reservoir, which would directly threaten to flood our town and our house. My daughters and I were afraid to hide in the basement from the shelling, because of the fear that if the dam burst, the basement would flood and we would all drown in it,' said the 36-year-old refugee. "I did not know what to do. I called my brother, who served in the Ukrainian army, to ask for advice – he said it would be wiser to take shelter in the basement after all. We spent the next three days there, but the moment seven bombs exploded near the house, I decided that I could no longer stay here with the children" – she continued. "We fled to Alexandria (in southeastern Ukraine).
Finding a job here is like a miracle, which is why the PCPM program is such a huge support for us. I don't know how I would have managed without it" – she added. Hanna wants to return to her home near Kharkiv, but when she calls friends who stayed in Pecheniha, they sincerely advise her not to return as the war is not over, and moving around the village is dangerous because of the mines left there by the Russians.
Hanna, as a refugee, is currently volunteering. "I am involved in handing over items donated by donors from other parts of Ukraine and Europe. This includes clothes, for example. The work also helps me not to go crazy from all this. I am glad I may contribute something good to this community" – she said.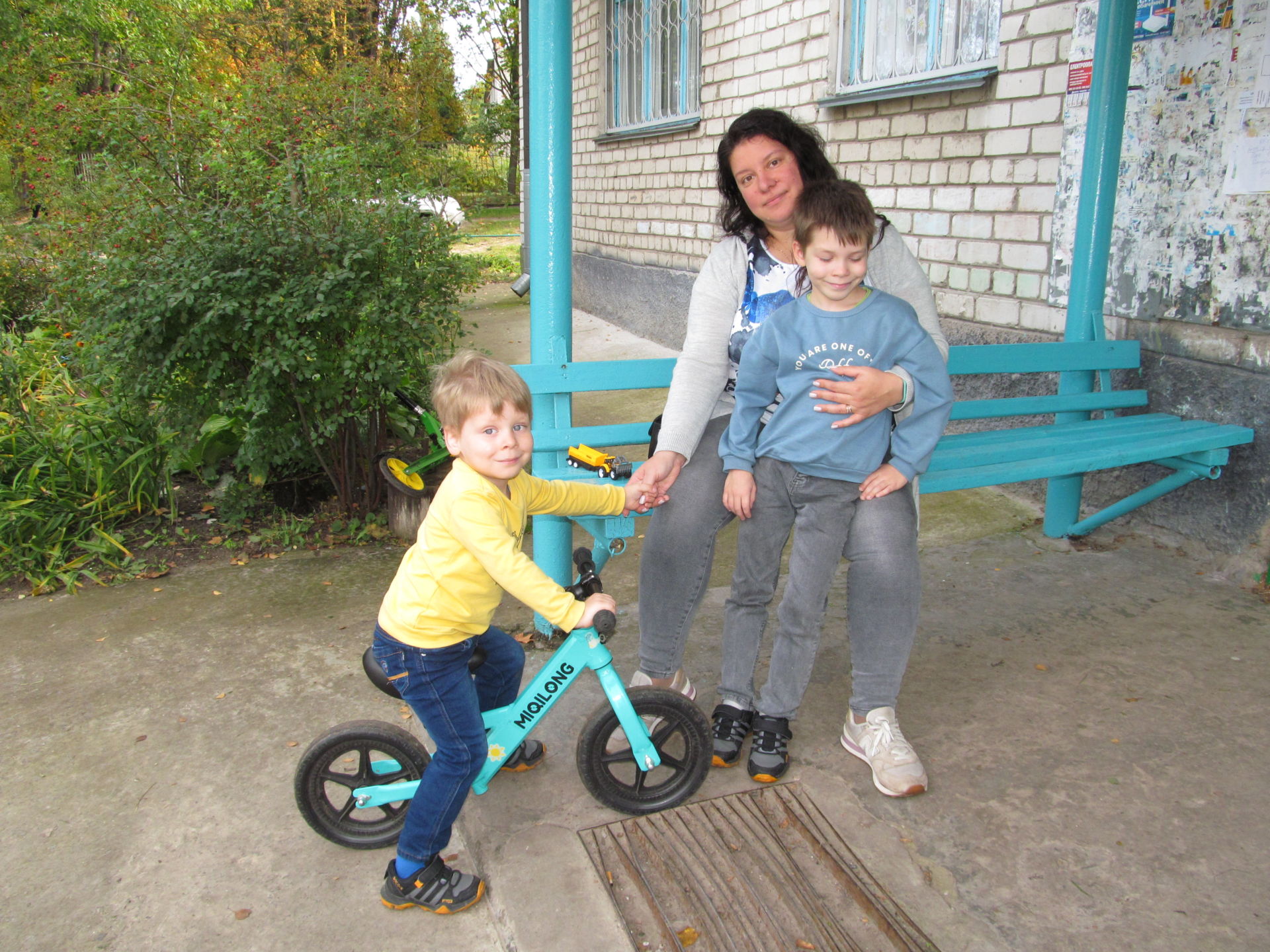 "ON THE FIRST DAY OF THE WAR THE WINDOWS BLEW OUT, THE ROOF WAS DAMAGED. WE SPENT MORE THAN TWO WEEKS IN THE BASEMENT BECAUSE OF THE FEAR."
Radecka points out that each of the PCPM's beneficiaries is a refugee especially vulnerable to war. "These are, for example, families with many children, families led by a single mother, or families where there are members with disabilities or members suffering from chronic illnesses. Also elderly, retired people" – she explained. One such person is 59-year-old electromechanic Serhiy from Izyum in the Kharkiv region, who found refuge with his family in the village of Novi Sanzhary near Poltava.
"Already on the first day of the war, there was the bombardment. Russia first aimed a school that was located about two hundred meters from my house. On the first day of the war the windows blew out, the roof was damaged. We spent more than two weeks in the basement because of the fear of shelling. When I came out after that time, I saw that the whole town was destroyed, I decided that I had to take my family and run away" – recalled Serhiy, a father of a family of five. "I guess it was only by a miracle that our car stayed undamaged. Although it was covered in dust and debris from the explosion, the engine started. We left with the whole family – me, wife, grandson, granddaughter and daughter. We first stayed for a week at our relatives' house in Slavyansk, but the war soon came there too. The local government advised us to flee, so we preferred not to tempt fate and moved on from there" – he continued.
When asked how he ended up near Poltava, he replied that he called people who had already decided to flee. "I was advised to take my family exactly there. There are a lot of sanatoriums, resorts, where they welcome refugees like us. We stayed in one of them, there was enough money until May. Now, thanks to the support of the PCPM Foundation, we have money to rent a house in a village, some 10 kilometers from the town," he said. Serhiy is grateful that everyone in the family is okay. "That's the most important thing, although my 4-year-old grandson has already learned what war is and what the bombs Russia threatens us with look like"
"A BITTER SIGHT FOUND ME. THE CITY IS 80 PERCENT RUINS. MY HOUSE TURNED TO ASHES"
After being unbound from Izyum by the Ukrainian army, Serhiy decided to go home. "It would have been better if I had never returned there. A bitter sight found me. The city is 80 percent ruins. My house turned to ashes, there was nothing left. Only the well and the basement where we hid remained. The rest was burned or destroyed. I have the impression that even bicycles were viciously smashed by tanks. Roads were destroyed, shrapnels from explosions were everywhere. It's impossible to live there, and certainly to survive the winter" – he said. All of Serhiy's family's belongings burned down, along with their home in Izyum. "With the help of organizations like yours, we are still managing. On behalf of the whole family, I sincerely thank you for the help you have given us!" – he said.
WARM CLOTHES AND BLANKETS BECOME NECESSITIES
Winter support for refugees in Ukraine is essential. Even in Kyiv heating in apartments is likely to be reduced to a minimum. When temperatures drop below freezing, warm clothes, insulated shoes and blankets become items of first necessity. "We donate humanitarian aid where it is needed most. Recently, we have already reached the 11th location – Lutsk – with our transports" – said the coordinator of the PCPM program in Ukraine. Previously, the Polish Center for International Aid (PCPM) delivered humanitarian aid to towns in western Ukraine, where Ukrainians are hosting compatriots from the occupied territories: Truskavets, Shodnitsa, Stebnyk, Turek, Borinia, Strzalki, Obukhov, Fastov. In addition, the PCPM Foundation gave support to Kyiv and its surroundings and to Svitlovodsk. "Local governments helped us a lot. They provided us with volunteers to help with the distributions. We are grateful to them for this" – Radecka added.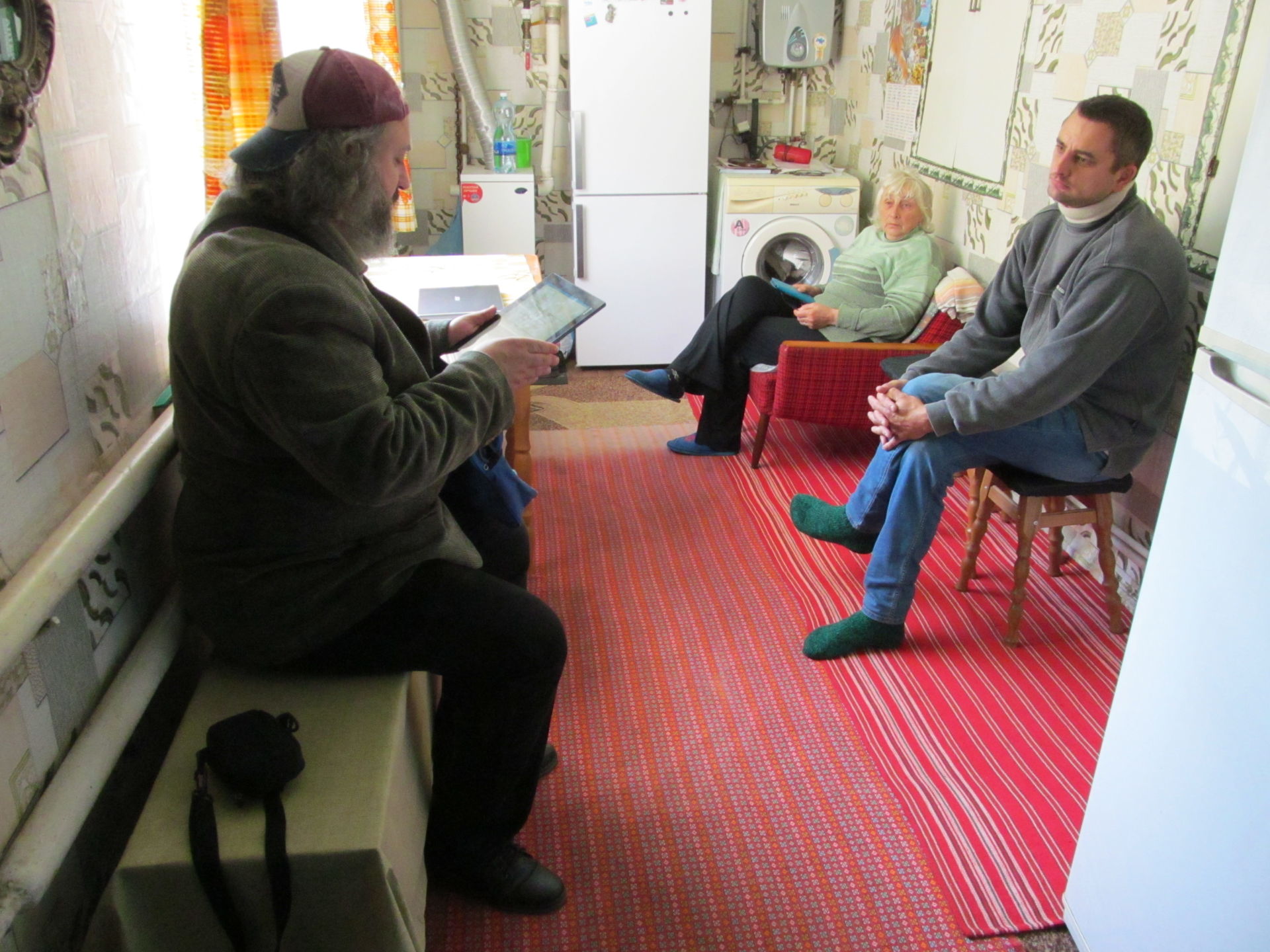 "ON THE SEVENTH DAY OF THE WAR, BOMBS FELL CLOSE TO HOME, KILLING MANY ORDINARY WALKERS"
In the latter city, one of the women supported by PCPM is Hanna from Pavlove Pole, a Kharkiv district. "The war found us at home, we saw and heard explosions and shelling on a daily basis. On the seventh day of the war, bombs fell very close to home, killing many ordinary people who were walking in the streets at the time. After this incident, we decided that we could not take any more risks. We took my mother and together with my husband and two children we fled to Svitlovodsk, which is not so far away and is much safer than Kharkiv" – she said. "Our children took what we saw in our hometown very badly. They have become more nervous, they are afraid of louder noises, even of a thunderstorm" – she said.
"In Svitlovodsk I could not find a job in my profession, before the war I was an accountant. I had to look around for something new. Thanks to your help, I financed a course for a manicurist and I will start work in the coming days. I am grateful to you for this. It's very important for me to have a source of income now, because my kids are growing fast, the winter is coming, I will have to buy them some warm clothes" – Hanna continued. "I am grateful for your help, without it, I would probably have to return to Kharkiv, where there are still air strikes and it is dangerous" – the refugee woman concluded.