In Lebanon, bees pull people out of crisis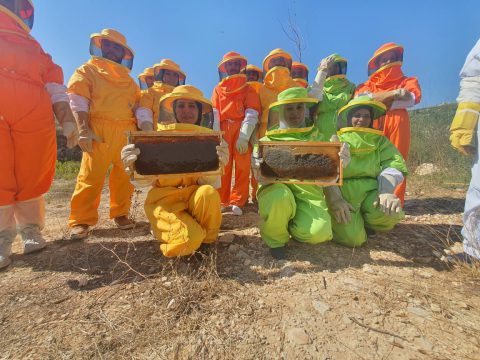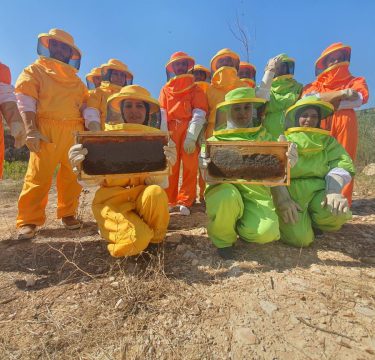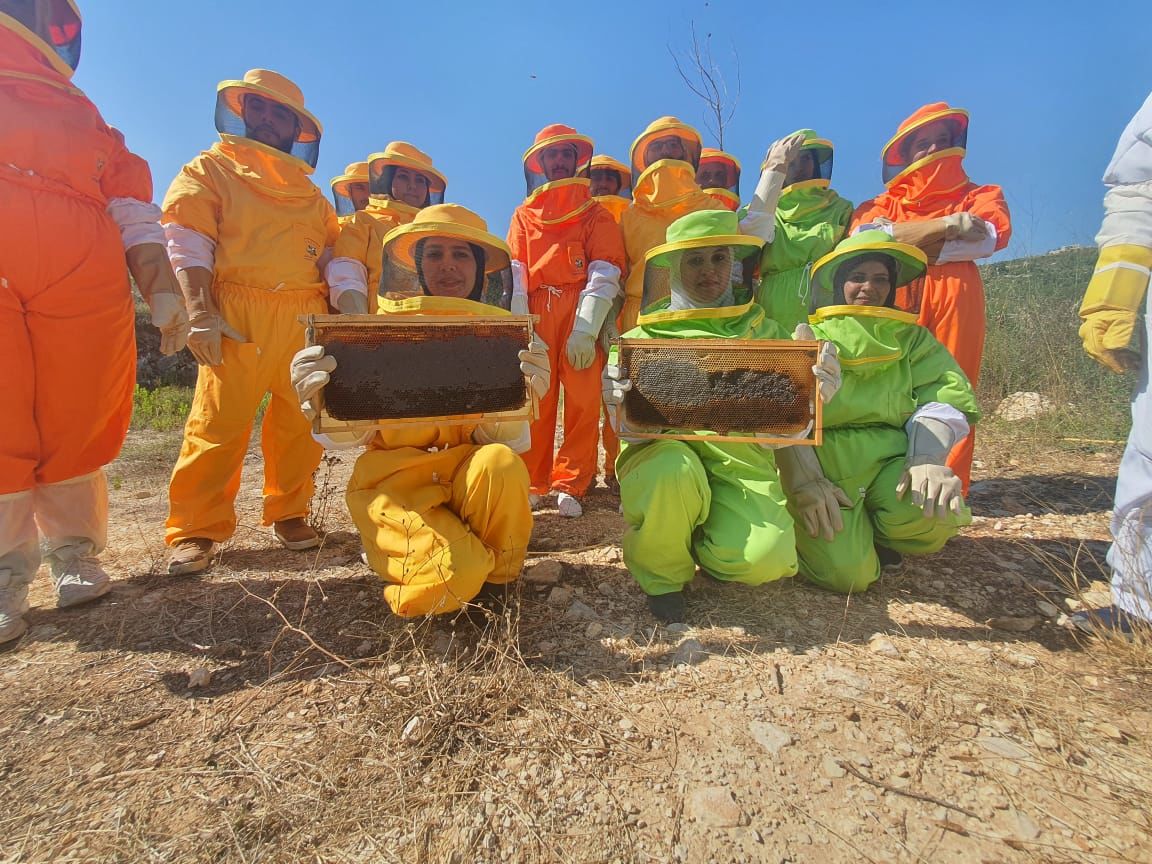 The beekeepers' training at the Polish Center for International Aid is key for the trainees to have the necessary knowledge to start their carrier in this profession. The courses were within the MASAR (Maintaining Strength and Resilience for Local Governments) program funded by the EU takes place e.g., in northern Lebanon and involves thirty-five municipalities. It benefits both Lebanese and Syrian refugees whoever inevitably forced to flee their homeland to neighboring countries due to the war in their country. The European Commission estimates the number of Syrian refugees in Lebanon at more than 851,000 people (as of May 2022). The same source says the total number of refugees in the country is just over one million (more than 200,000 Palestinians). The beekeeping workshop is one of the MASAR program's activities aimed at improving the economic situation of residents. And the situation in Lebanon is bad.
How much does the Lebanese honey weigh?
Beekeeping is a popular occupation in Lebanon, furthermore, the profession's popularity has risen due to the ongoing crisis, however as Dany Yammouni, Beekeeping Office Chief in the Research Institute under the Lebanese Ministry of Agriculture points out, 95% of Lebanese beekeepers have this activity as a part-time job. 'In 2016 we created LARI (Lebanese Agriculture Research Institute) the beekeeping institute because we realized that this branch of the country's economy needs adequate support. We are seeing a huge lack of research on beekeeping' said our colleague from the Lebanese Agricultural Research Institute (LARI). 'It took us two years to collect specific information about beekeepers in the country. What is the number of apiaries in there, how the production of honey is lead, what is the amount of honey they manage to obtain?' – he recounts. The general survey allowed the institute to take the next step. 'It turned out that most beekeepers are free riders. There are cooperatives, and associations of honey producers, but they did not work very well to strengthen the sector as a whole – he explains. 'We wanted to support these cooperatives so that they are better able to realize their potential. Beekeepers working together can apply for subsidies, equipment, and assistance. It is also easier for them to expand into other products, often more demanding than honey. Now PCPM is doing a similar enterprise in northern Lebanon under the MASAR project' – he continued. 'Previously, the beekeepers here produced only honey, during the training we show that thanks to bees it is also possible to obtain the wax, propolis, pollen, or bee venom' – Dany Yammouni reminisced.
Essential knowledge thanks to the support of a Polish organization with the EU funds
The support of the Polish International Aid Center Foundation consists, among other things, in conducting workshops for novice beekeepers. The instructors impart the necessary knowledge to the trainees and explain how to effectively use and manage the hives and how to take care of the bees. 'We started with classes for beginners. In the workshops we start with the basics: what is a hive, what does it consist of, how to take care of the bees so that they are healthy, and how to use the hive – it's a lot of practical knowledge that can be implemented quite quickly' – describes Dominika Michalak of the PCPM Foundation, who works on the Lebanese MASAR project. 'These training are important because they allow you to gain specific skills' – she said.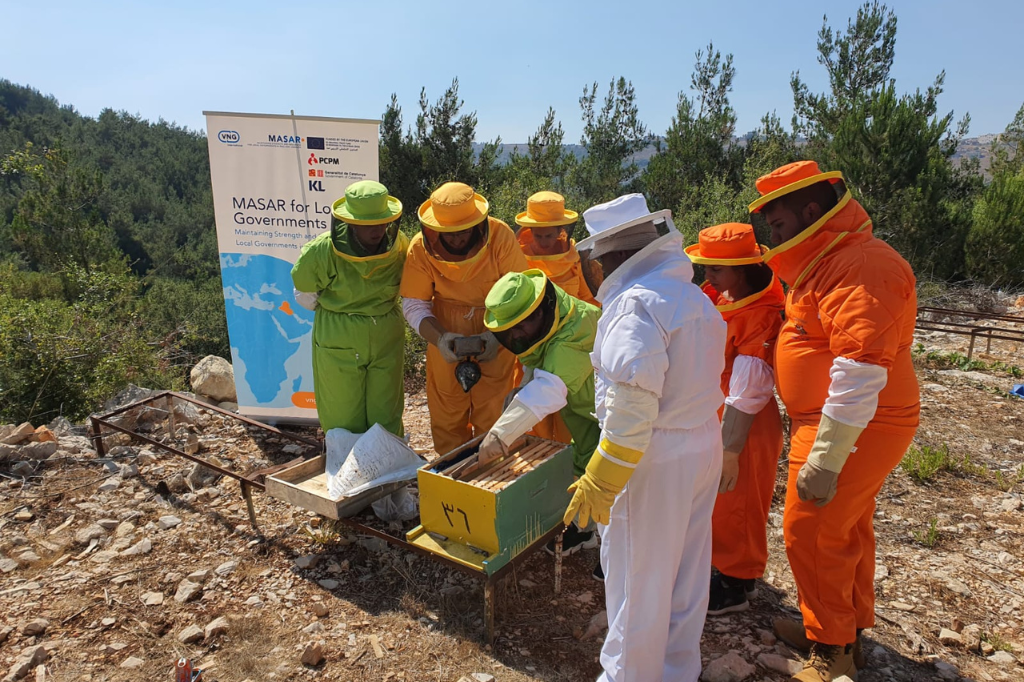 More than three hundred people applied for the training, and we have accepted sixty of them, in cases of particularly difficult financial situations. Twenty male and female graduates at the end of the course also received kits allowing them to set up a small apiary. Each kit includes three hives with bees, basic beekeeping tools to harvest honey, and protective clothing. 'Thanks to the training and in-kind assistance, the participants have a chance to earn extra income, which is much needed' – Dominika Michalak says. Dany Yammouni expresses another significant argument. A substantial number of young people apply for them. 'When you see this kind of interest among young people, it means that the opportunities for developing this sector in Lebanon are high' – he noted. According to this year's United Nations Children's Fund (UNICEF) Youth-Focused Rapid Assessment (YFRA) report, 31 percent of young people between the ages of 15 and 24 in Lebanon are unemployed or not in education. The same source indicates that the average salary of such a person in Lebanon is 1.6 million Lebanese pounds – about $64 a month. Young Syrian refugees in Lebanon are even worse off, after all, their earnings are worth about $1 a day.
A tangible aid
Training courses for advanced beekeepers and cooperatives will begin in August. Their goal is to strengthen the self-organization of beekeepers, including cooperation in quality control and joint sales of bee products, as well as to spread knowledge about the production of rarer bee products. More efficient cooperatives are an opportunity for beekeepers in the north to go beyond the local market, and in the future even beyond Lebanon. It is also worth noting that the workshops benefit women in large numbers. The effects of the LARI institute had already generated an impact among honey producers. 'Previously, production was very poor – about five kilos of harvest from one hive per season. Now trained beekeepers are harvesting it from seven to even ten kilos' – Dany said. As he adds, the PCPM project also allows the profession to professionalize. 'Let's remember that most people who want to accept beekeeping additionally work as teachers, clerks, bank employees – they are ordinary people. Through training, they can improve their skills, harvest more honey, and earn more money, which is so necessary for a crisis' – he mentions.
The true face of the crisis
Dominika Michalak explains the continuing face of the crisis in Lebanon – 'There are two official currencies in Lebanon – U.S. dollar and Lebanese pound. The exchange rate of the Lebanese pound against the dollar has been falling since mid-2019. As recently as July 2019, 1 dollar cost 1,500 Lebanese pounds in the underground economy. Today, about 30,000 pounds, or twenty times more, for one dollar. This corresponds to a significant increase in prices and a decrease in the purchasing power of wages in the public sector. Teachers, civil servants, or military officers, paid by the state at the old rate, now earn a couple of tens of dollars a month, and Lebanon is no cheaper than Poland. The mood in the country is aggravated by rising fuel prices, their deteriorating availability, and daily power outages lasting for hours. Mass protests are not yielding results. On top of this, the already high social stratification is increasing: a small part of the population earns in dollars, and inflation does not affect them as much. These people are better off than the rest – he points out. Yet another trouble spot in the Lebanese economy is the unemployment rate. This year the International Labor Organization (ILO) reported that one in three Lebanese is unemployed (29.6 percent).
Queues for bread, no electricity, and staggering inflation
A similar description of the reality in Lebanon by the PCPM employee in Beirut Przemysław Rembielak, an instructor and firefighting expert – 'Beirut alone, like the whole Lebanon, is facing a monstrous crisis on the both economic, political and energetical basis, it like that every world's crisis gathered in this country. 'There is a problem with electricity – it is only available four hours a day – two hours in the morning, two hours in the evening. There is a problem of lack of medicine – there is just no medicine, or it is hellishly expensive, and few people can afford it. There is a problem of jobs – businesses have closed, there are stores on the streets of the capital that you can see that they out of business for a long time – he described. Lebanese society is also struggling with massive price increases. 'Prices have jumped dramatically, there is nightmarish inflation. The same salary as before, for a soldier, police officer, or civil servant, is not enough to pay for basic needs – he said. In June 2022, the UN indicated that inflation in Lebanon had reached 890 percent! The interlocutor notes that a symptom of the ongoing crisis is the huge queues in front of bakeries, ATMs, or stores selling SIM cards for phones.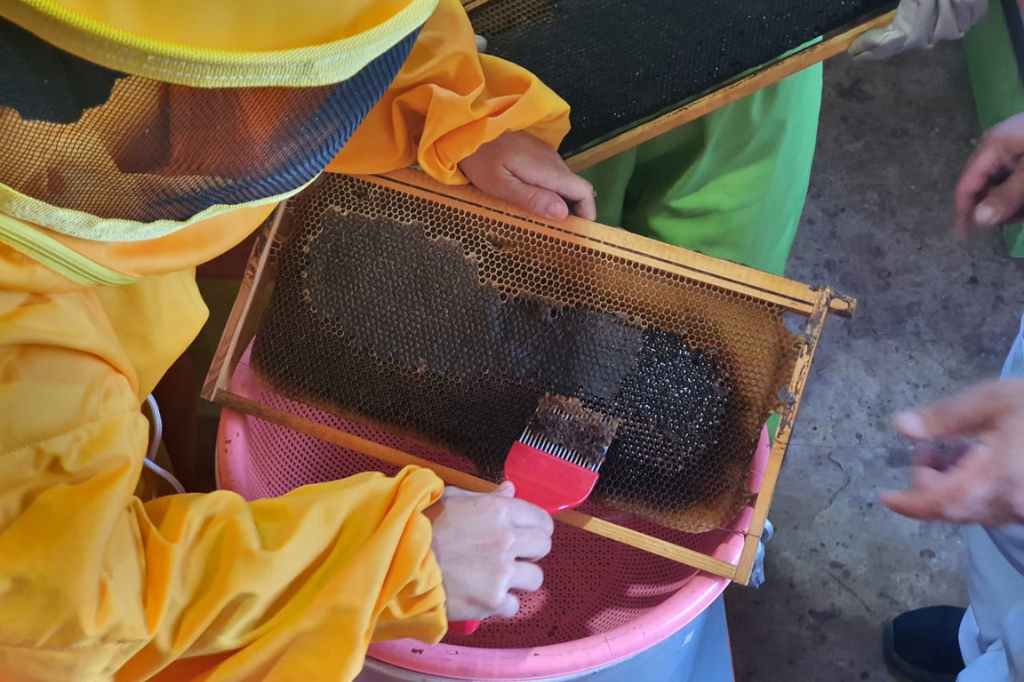 Due to the increase in production costs, honey has also become more expensive in Lebanon. It now costs $12 for an 850 ml jar, while before the crisis, the price fluctuated between $7 and $8. When asked how popular honey is among Lebanese, our interviewee from the LARI institute responds with a story. 'When the Covid-19 pandemic came, everyone rushed to buy honey because of its health properties. At that moment, at a moment's notice, beekeepers sold their honey in its entirety – he recounted, adding that today fewer and fewer families can afford to buy even a jar, getting the sector's hopes up from exporting the product.
We want to compete with America and Europe
The LARI Institute and the head of the beekeeping office want to make Lebanese honey more competitive in the foreign market. As Dany describes, this is a challenging task because other honey producers in Europe, South America, or Canada produce 30-40 kg of honey from each hive. In Lebanon, efficiency is still lower, thus increasing production costs. Lebanese honey, however, has its advantages. 'We have a very good product here, our specialty is multi-flower honey, while producers abroad are monopolized by monoculture honey, such as acacia' – he explains. As the interviewee notes, a prerequisite for strengthening Lebanon's export potential is greater cooperation among beekeepers. The scale of production from individual apiaries is small, but a well-organized cooperative has a chance to increase production, ensure proper quality control and start exporting its goods.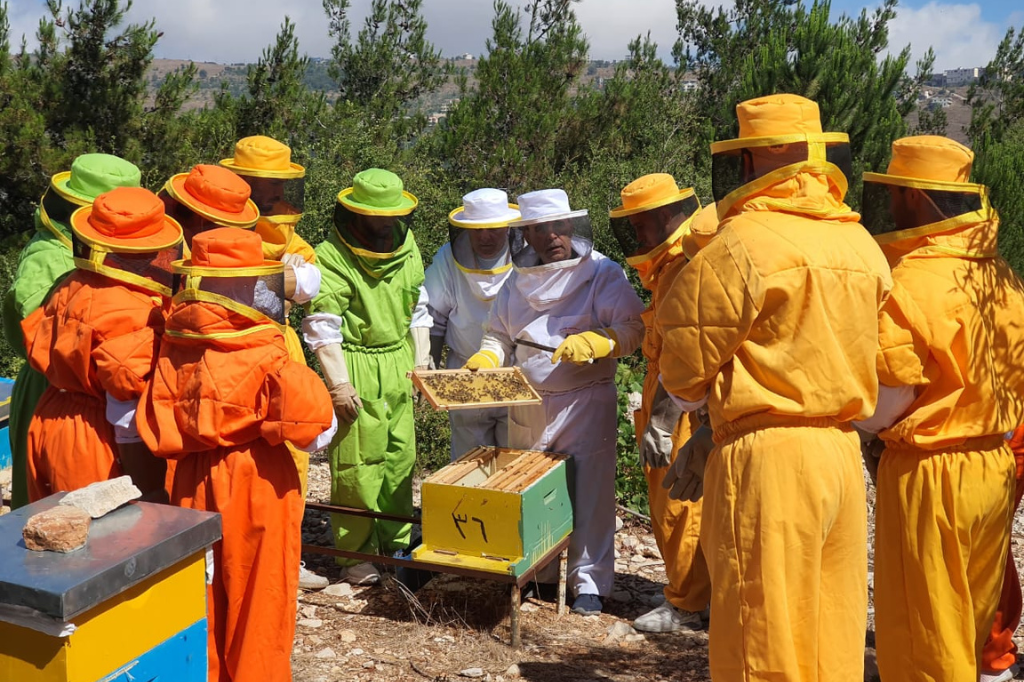 Both interviewees, when asked why they bet on honey in Lebanon, agree – it gives the beneficiaries of the programs a chance for additional income. Beekeeping offers a quick return on the money invested compared to other agriculture-related activities. 'You invest a thousand dollars buying four hives. The investment pays you back in a year and such a beekeeper in the second year of his business is already coming out ahead' – says Dany. 'When, as in the MASAR program, we additionally provide in-kind assistance to beekeepers, also people in a very difficult situation have a chance to improve their material situation' – she added.
Honey for the crisis
'We want the people and residents of Lebanon to live at least a little better, despite all the crises that have hit the country. Supporting beekeeping allows us to fulfill this task on a small scale, with at the same time the least damage to the environment and a good chance of sustainability of the project's results. That is why we are doing it' – Dominika Michalak of the PCPM Foundation concludes.
Interviewed by Stanislaw Ajewski (PCPM)
Follow us on social media:
We publish current information on the aid provided by the PCPM Foundation on Twitter.
Foundation's official profile on Instagram – @fundacjapcpm
Foundation's official Facebook profile – Polish Center For International Aid