Six months since the war in Ukraine broke out – PCPM helps ceaselessly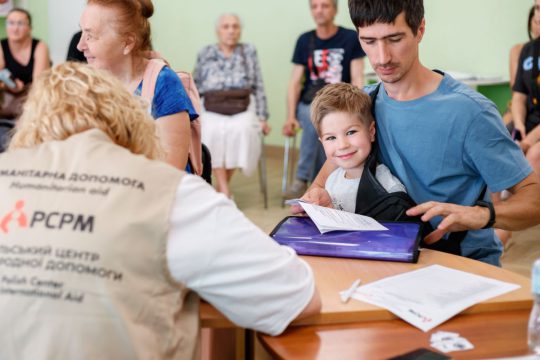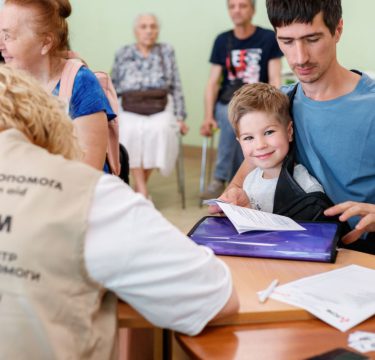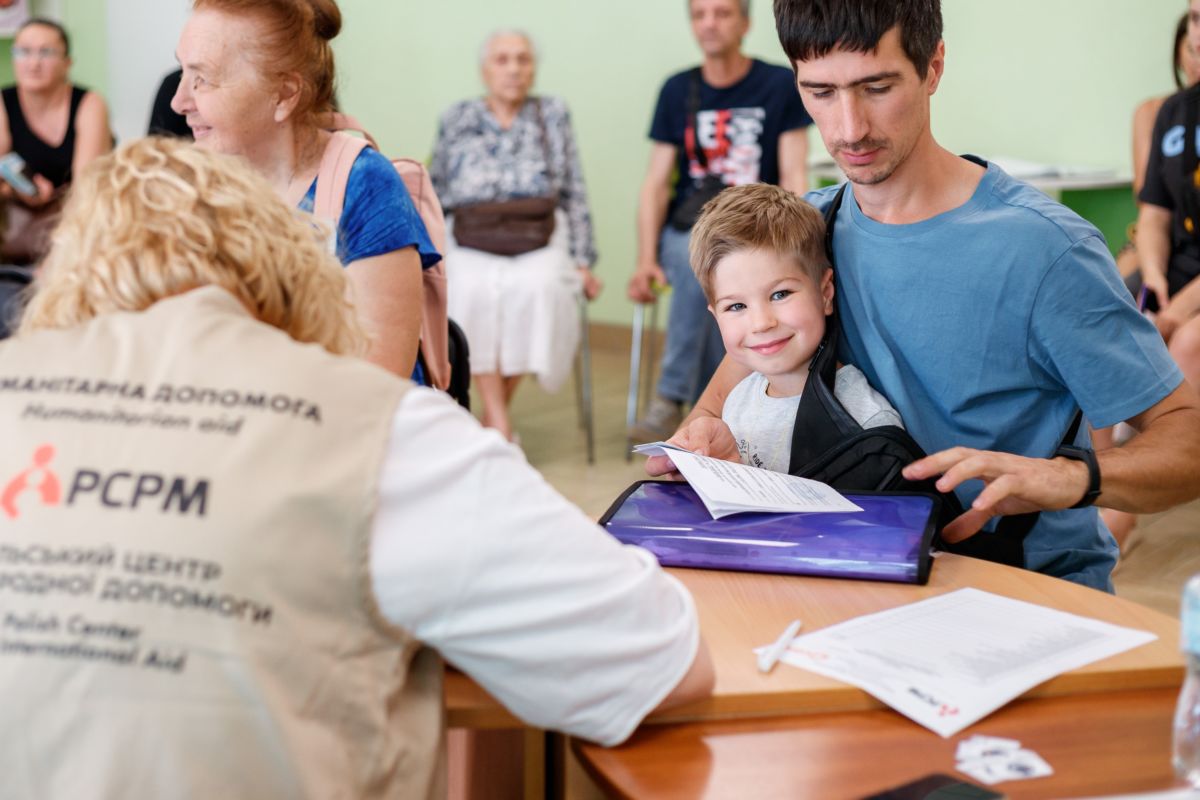 Since the war started the PCPM Foundation is constantly helping Ukraine. We analyzed various scenarios even before Russia's invasion of Ukraine started. On February 24th we received shocking news, but we took action with no delay.
When in the morning one of our co-workers from Kharkiv called and said: 'War has just started!", we were prepared to act. PCPM is providing humanitarian aid for 16 years, so even before the war started, we were already analyzing the situation, and planning how to help in case of the worsening of it. We have been helping in the east of Ukraine since 2014. Now we operate throughout Ukraine, helping those who have lost their homes, educational opportunities, jobs, and often their health, loved ones, and family. We direct numerous aid programs to refugees in Poland. Over the years, we have gained experience in Lebanon, Iraq, South Sudan, Ethiopia, Uganda, and even the Balkans.
Despite our experience, on that day, February 24, we faced a huge challenge: how would we fund activities to meet the needs of those suddenly affected by war? We knew we would have to solve this problem and we anticipated on what scale. Each day, with each person crossing our borders, with each report of falling rockets, destroyed hospitals, impassable roads, and with each request for help coming in, the needs grew.
Today is the 181st day of the war. Each new one brings us new challenges, but along with them we also have more Partners and Donors. Polish, foreign, and international companies and organizations trusted us and showed their readiness to finance aid to Ukraine.
THANK YOU! YOUR SUPPORT HAS SIGNIFICANTLY INCREASED THE SCOPE AND SCALE OF ASSISTANCE
Humanitarian crises last a long time, however, and these 6 months have passed very quickly. The blockade of Ukrainian ports has turned the world's attention to the problems of African and Asian countries. The PCPM Foundation has been working there for years, trying to improve access to food, education, and security for ordinary citizens, among other things. The NGO's cooperation with the private sector gives hope and changes people's lives.
DOWNLOAD UKRAINE AID REPORT [in Polish]
HELPING REFUGEES ON THE SPOT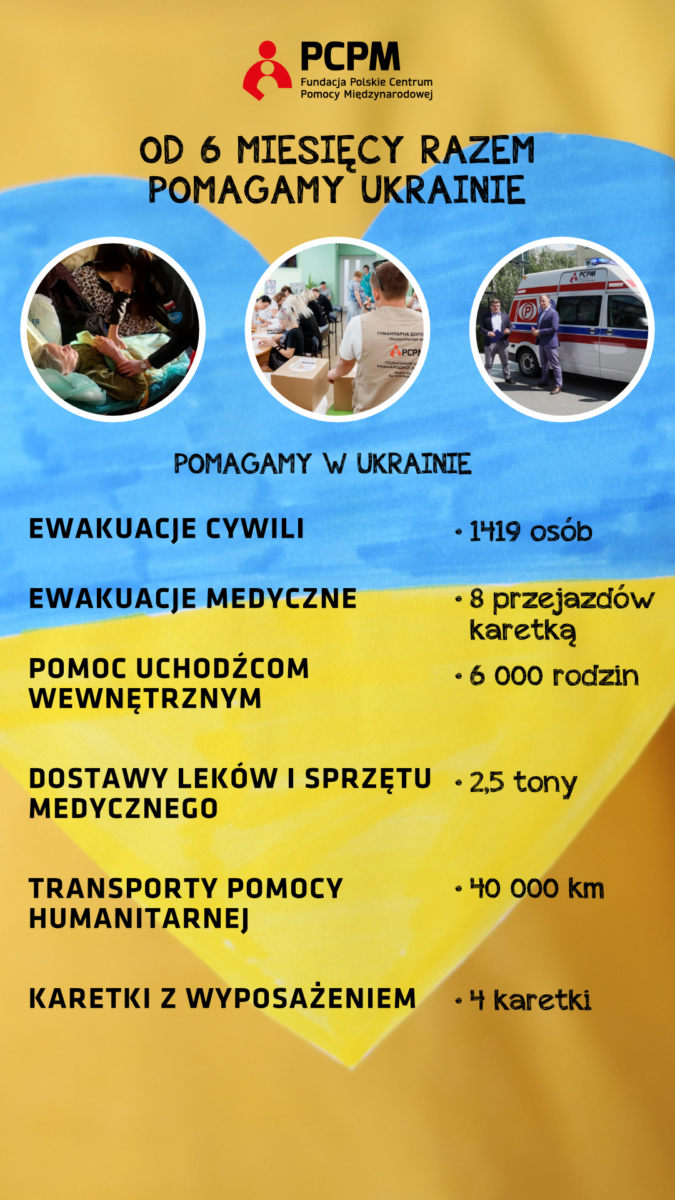 See and listen to these moms from Ukraine who had to flee their homes in the east of their country. They took refuge in Truskavets, just across the Polish-Ukrainian border, among other places.
HELPING UKRAINIAN REFUGEES IN POLAND
We have created, together with mBank in Warsaw, a Center for Education and Creativity for children and their mothers arriving from Ukraine. We opened the CEK in March. In the first 10 days, 169 Ukrainian children already participated in classes. Now the CEK is visited by 60-80 of them every day. Their mothers can leave them in a safe place while they enjoy Polish language lessons, prepare for work under the guidance of a specialist or attend meetings with a psychologist. Katya learned to converse freely in Polish in 3 months thanks to stationary classes. She got a permanent job at CEK, to which she can take her daughter with her. – Here there is a speech therapist, defectologist, and child psychologist on site. 'My daughter in Ukraine did not go to such classes, but now she has this opportunity. For me, the most important thing is that I have a job. I can't even imagine what it would be like without a job' – declares the Ukrainian.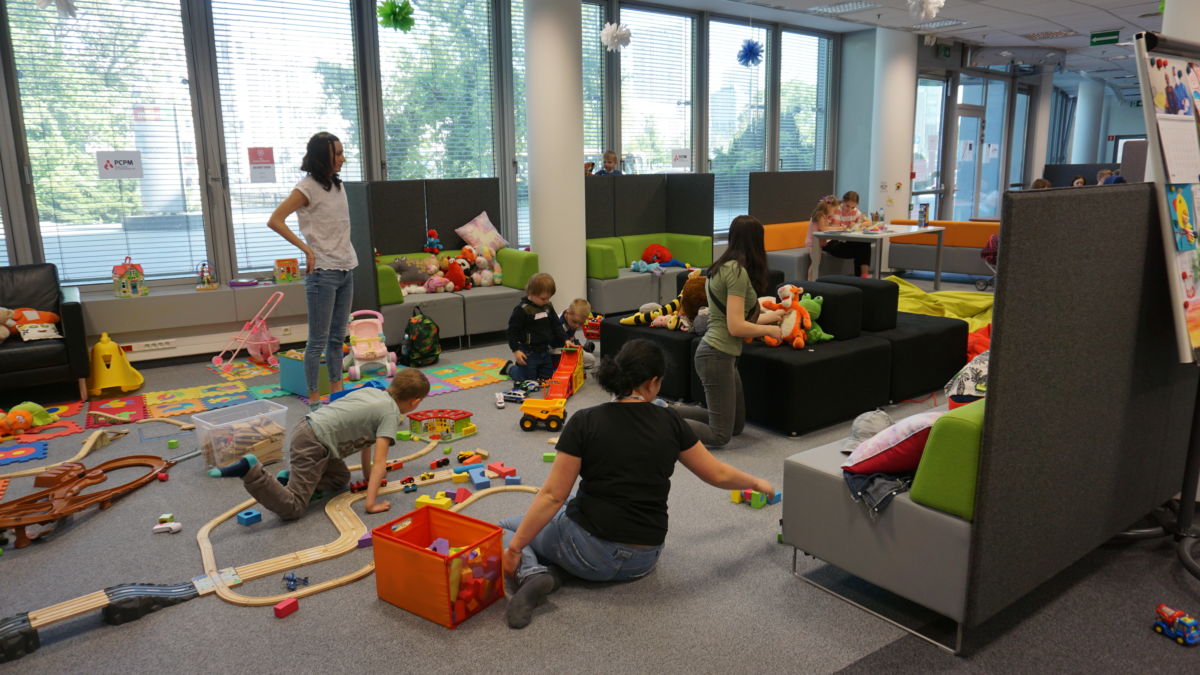 'We employ teacher assistants, psychologists, and translators, as well as support staff at Polish schools. We are also implementing the program throughout the 2022-2023 school year because we see how much it is needed. – We want to give them a substitute for stability and human dignity. It's not a handout, but treating refugees as partners in action, because we need them too. We don't generate jobs by force but use their skills and knowledge to support us as a host community' – explains Dr. Wojciech Wilk, President of the PCPM Foundation.
We also fund scholarships for musically talented young refugees from Ukraine. They came from Kharkiv, Kherson, Mariupol, Odesa, and several other cities. Often, they were the only ones from their families who decided to leave. Such was the case with Olga. She came from Mariupol; she was in her 4th year of the violin when the war broke out. In Poland, she was first sent to a collective aid station near Warsaw. Thanks to the scholarship, she was able to buy food and continue her studies remotely, only earning extra money by giving concerts. We wanted the scholarship to give her a sense of security and motivation, including during those difficult moments when dramatic news reached Poland from Mariupol. Now Olga is playing more and more concerts in Poland, music is becoming her source of income. We awarded such scholarships to 25 female students. Among them were two brothers from Congo, who studied architecture and mechanics in Ukraine. They want to complete their studies in Poland. We are also helping young people from Ukraine who came to us before the war and are learning specific professions in vocational schools and technical schools. The directors of the dormitories were looking for funding for their continued stay, as the war had deprived some parents of jobs.
Thanks to the joint initiative for children and young people, we are present at concerts and festivals organized by SOIAR members, and these are the largest musical events in Poland. We will use the funds raised during the joint action to rebuild Ukrainian schools, as well as art and development classes to cope with stress. Aid will be directed to children and young people Look for us at the concerts, the action is still ongoing.
WAR IS CASUALTIES AND CRISIS
'The hope of the end of the war that came to mind after the Russian army's withdrawal from the suburbs of Kyiv came to naught. The battle of Donbas is changing to a guerilla war. Without a doubt, we can assume that the Russian aggression in Ukraine will not change in a finger snap. However, the war and presence of more than a million Ukrainian refugees are becoming a part of our reality – writes Dr. Wojciech Wilk – a U.N. expert and a chair of PCPM. – When looking at the situation of refugees in Poland and at other places of humanitarian crises I have had the opportunity to work in – and there are more than 20 of them – I can say with satisfaction that Poland has done well in taking in refugees from Ukraine, Dr. Wilk summarizes six months of the war in Ukraine.
– The Russian invasion of Ukraine, which began on Feb. 24, 2022, has so far led to the deaths of tens of thousands of people, the flight of millions of the country's population, and the stirring up of an economic crisis on a global scale, Reuters reports, summarizing six months of the war in Ukraine. According to documented data, at least 5587 civilians have been killed and 7890 wounded in Ukraine since February 24, but the actual losses are much higher, the Office of the United Nations High Commissioner for Human Rights (OHCHR) reported Monday. Most of those killed or wounded were victims of bombing and rocket fire.
Follow us on social media:
We are posting up-to-date information about the PCPM Foundation's relief efforts on Twitter.
Foundation's official profile on Instagram – @fundacjapcpm
Foundation's official profile on Facebook – Polish Center for International Aid (PCPM)
Support Ukraine aid with donations via pcpm.org.pl/ukraina